Endless number of fishing opportunities
The Columbia River Gorge provides an endless number of fishing opportunities for the experienced and beginning angler. Beautiful rivers and streams, high elevation lakes, reservoirs, and small ponds offer just about every setting one could ask for to relax and fish for Bass, Walleye, Catfish, Trout, Salmon, and Steelhead.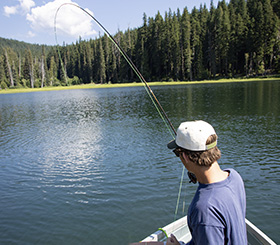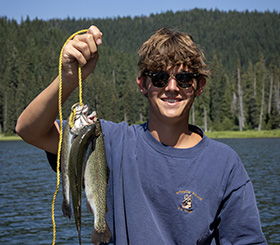 Did you know?  The Broughton Log Flume was the last operating log flume in the country? Portions of the original nine-mile flume can be viewed from Highway 14 in east Skamania County in the heart of the Columbia River Gorge.
#1, #2, #3 | To get you excited for your first day of this fishing adventure in Skamania County, make a stop at Bonneville Dam and checkout their underwater fish viewing windows to see what type of fishing are swimming up the Columbia River! Just a few miles west of the dam you can put a pole in the water at Ice House Lake to try and catch some trout. Stop by Andrew's Pizza in Stevenson afterward for mouthwatering pizza and stromboli. They also feature all local microbrews on tap! Wind Mountain Resort in Home Valley will be the best place to stay the night for this trip – its where all the fishermen go.
#4, #5 | Day two will start early with a stop at Gotta Hava Java in Stevenson for a hot cup of coffee and a fresh breakfast burrito. You'll need it for your day on the Columbia River fishing for salmon or walleye. Upper Columbia Guide Service will take care of everything you need and their professional guides will guarantee a fun day of fishing. Dinner tonight is at Big River Grill to try one of their delicious salmon dishes.
#6 | On your last morning, you should try bank fishing for Steelhead at the mouth of the Wind River, which is only a mile from Wind Mountain Resort! The Crossing in Stevenson will take good care of you for lunch, with incredible panini sandwiches and homemade baked goods. Before you head back home, visit the Columbia Gorge Interpretive Center Museum to see how fishing was done back in the day. They have a replica of a Native American fish wheel and a statue of dip netting at a waterfall.