Sasquatch Seeking Fun
Back in the late 1960s, there were so many reported sightings of Sasquatch, Bigfoot, Yeti or the Giant Hairy Ape in Skamania County, Washington, the county commissioners decided that an ordinance needed to be in place to protect the elusive creature and keep Bigfoot seekers from shooting a bearded elk hunter tramping around in the Gifford Pinchot National Forest. The law was originally passed in 1969, amended in 1984 and today harming Sasquatch within Skamania County's borders could cost you one year of jail time and/or a $1000 fine. Learn more about the ordinance.
You are, however, encouraged to "shoot" Bigfoot with a camera in Skamania County! We highly encourage folks to look for him (or her) while out enjoying the spectacular natural setting of this little bit of heaven in southwestern Washington. The following itinerary includes locations of previous Bigfoot encounters where you might catch a glimpse of a large, hairy being crossing a remote road. You are guaranteed a photo op if the real thing does indeed elude your grasp.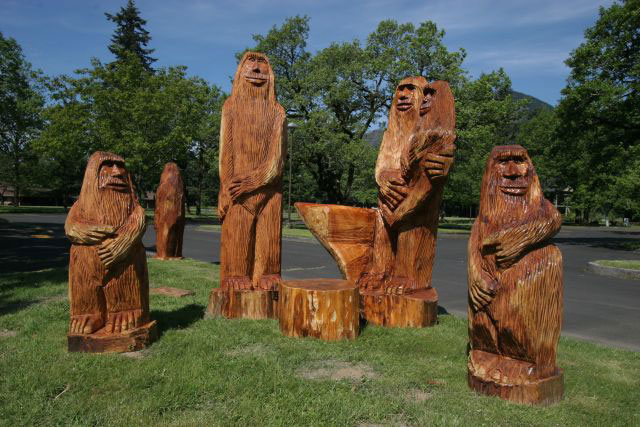 Did you know? Wild huckleberries, magnificent waterfalls, savory mushrooms, Mt. St. Helens, the Gifford Pinchot National Forest, mineral springs and maybe even a peek at Bigfoot can all be found just north of Carson, Washington?
#1 | Travel east on State Route 14 from Vancouver, Washington into Skamania County. This scenic byway will take you through one of the most beautiful areas in the state as you enter the Columbia River Gorge National Scenic Area. Make sure to stop at the Cape Horn pullout for incredible views of the Gorge (MP 26) but be very cautious pulling back onto the highway.
#2 | About 10 miles east, Beacon Rock State Park will be your first stop to seek out the hairy one. During the summer of 1970, three reports were made with sightings or evidence of Sasquatch in the Beacon Rock area. A Portland man encountered a creature in a cave, another person measured footprints that were 9 inches wide and almost 19 inches long and a local woman changing a tire in the middle of the night had a face-to-face experience that she detailed in very descriptive terms. Take the hike to the top of Beacon Rock, the core of an ancient volcano. The mile long hike that is open year-round provides panoramic views. A Discover Pass is required and can be purchased in the parking lot. (Don't forget this important step because a ticket at the end of your hike could ruin your day!) The state park also has a day-use area with a boat launch, picnic area and access to the Columbia River.
#3 | Just three miles past Beacon Rock, stop in North Bonneville – especially if little ones are along for the Sasquatch Adventure. North Bonneville's Bigfoot Discovery Trail system, is perfect for guaranteed sightings! Enjoy more than 12 miles of paved trails that wind through the small town and seek out the 15 Bigfoot statues that live there. While exploring, take the path to Beacon Rock Golf Course for lunch outside on their deck. Hearty sandwiches and juicy burgers are their specialties. Who knows, you might spy something peeking out from the many trees lining the fairways.
#4 | Stevenson is seven miles east of North Bonneville and in September 1969, Skamania County Sheriff Bill Closner photographed two tracks, 15 ½ inches long by nine inches wide, at a logging operation five miles north of town. While seeking evidence of your own, check out Bigfoot Coffee Roasters at 66 SW Russell Street for a delightful variety of Sasquatch memorabilia along with fabulous coffee. Just down the street at the Skamania County Pioneer's offices, you can read special issues of the local paper that document many of these stories. Don't miss the photo opportunity in front of the Skamania County Chamber of Commerce – put your face in Bigfoot and say cheese! As you leave Stevenson and head east, stop at The Cabin Drive-Thru for another photo op. Make sure you have a cone full of their tasty frozen custard as you stand next to Bigfoot holding his own.
#5 | Carson, Washington is the southeastern gateway to the Gifford Pinchot National Forest and Mount St. Helens. This part of Skamania County is rich with Sasquatch appearances, dating back to the 1850s. Best to spend the night in Carson and prepare for an intense day of "squatching" tomorrow. Carson Hot Springs Resort has been in operation for over a 100 years, providing healing waters for those seeking respite from aches and pains. The remote location is perfect for increased anticipation of another potential sighting. Reserve a Wind River room with a hot tub on the balcony and treat yourself. Or choose a standard guestroom and take advantage of the new soaking pool. Either choice will rejuvenate you for the next day's adventures.
#6 | Head out early the next morning, fueled with a big breakfast where the local eat, Blue Collar Café on Wind River Highway. This is the route into the national forest so keep your eyes and ears open because who knows what may be crossing the road around the next curve. Before heading north, stop at Eric's Place for sandwiches you can picnic on later in the date. Continue north past the Carson National Fish Hatchery and then up and over Old Man Pass. In April 1969, three men from Gresham photographed tracks that appeared to have been made by someone with a five-foot stride, about 20 miles north of Carson. For generations hunters seeking deer and elk have reported sounds and smells unattributable to anything human. At the intersection with Forest Road 90, turn north on FS 25 to Windy Ridge. In the summer of 1955, workers at a YMCA camp at Spirit Lake claimed to have viewed an albino Sasquatch, hurdling logs between Coldwater Lake and St. Helens Lake. Look for yourself along FS 99 while checking out the interpretive signage re-telling eruption details from 1980.
#7 | Challenge yourself by climbing the 368 steps of the sandladder at Windy Ridge and be rewarded with the closest viewing of the Mt. St. Helens crater available. When you get back down, those sandwiches are going to taste even better. On the trip back down the east side of the mountain, imagine escaping the avalanche of mud and ash that occurred during the historic blast. Endless numbers of unexplained experiences have been reported around Mt. St. Helens and the only answer seems to be – it must have been Bigfoot.
Find out for yourself on this journey through Skamania County, a true Sasquatch Refuge!