Dining in the Columbia River Gorge is an epicurean delight. There are so many opportunities from fine cuisine to down-home comfort food. You will find something to please everyone's appetite. Try them all and choose your favorite! Will it be fresh salmon served on a patio at the edge of the Columbia River or the local hangout with awesome broasted chicken? You decide.
Did You Know? You can catch a bus in Vancouver on Friday night, spend the weekend hiking around Skamania County and never use your car?
Weekend Transit Schedule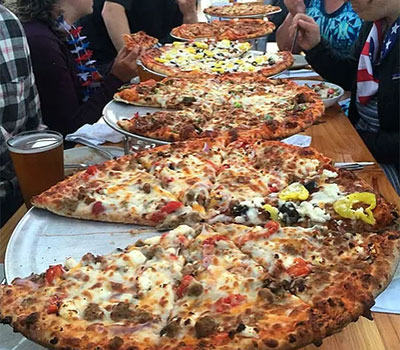 240 SW First Street
PO Box 337
Stevenson, WA 98648
509-427-5520
Send Email
One of the original pioneers of craft beer in the Gorge, Walking Man Brewing has been producing award winning beer since 2000. A spectacular dog friendly beer garden provides the perfect setting to enjoy delicious pub fare and brews with friends old and new. A must-stop for Gorge travelers and adventurers. For information, menus and pub hours visit www.walkingmanbeer.com
Member Since 2001
Thunder Island Brewing Company

515 Portage Road
PO Box 396
Cascade Locks, OR 97014
971-231-4599
Send Email
Thunder Island Brewing Co is a 7-barrel brewery and tasting room serving beer brewed with adventure in Cascade Locks, OR. Overlooking the mighty Columbia River, try a flight or pint of our handcrafted beers with lunch or dinner and enjoy the view. Well-behaved dogs are welcome on the patio. Visit www.thunderislandbrewing.com for menu and hours.
Member Since 2014
1162 B Wind River Road
PO Box 161
Carson, WA 98610
509-427-3412
Send Email
Locally owned brewery and brew pub serving delicious food and hand-crafted beers. We are kid friendly and offer indoor and outdoor seating. Located next to the Carson General Store in Carson, WA. Check our website for hours.
Member Since 2012
265 SW Second
PO Box 789
Stevenson, WA 98648
509-427-5491
Fax 509-427-4388
Send Email
Full service grocery store. Service Deli with fresh sandwiches, specialty cheeses and fried chicken. Bakery offers doughnuts, pastries and custom picture cakes. Fresh meats including angus beef. Farm fresh produce. DVD express rentals. Gift cards available. Store hours 7am- 9pm
Member Since 1997
Main Street Convenience Store

333 Rock Creek Drive
PO Box 1249
Stevenson, WA 98648
509-427-5653
Fax 509-427-5245
Send Email
The place to shop for all your needs. Beer, wine, liquor, deli, pizza, groceries, gas, propane, trail permits, hunting and fishing licenses and supplies. Open 24 hours, 7 days a week.
Member Since 2006