Enjoy the Ride
Welcome to one of America's most beautiful and majestic treasures, the Columbia River Gorge. Congress designated the Columbia River Gorge as a National Scenic Area in 1986, to preserve and enhance its scenic, natural, culture and recreational resources. There's no better way to experience the Gorge than on bicycle where breathtaking views keep you moving from one location to another.
Download: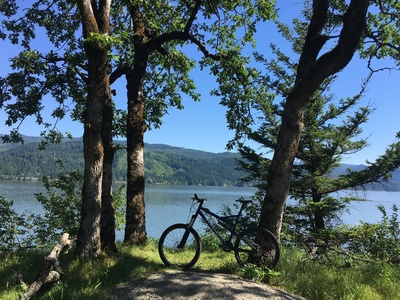 Route Options
Did you know? Wild huckleberries, magnificent waterfalls, savory mushrooms, Mt. St. Helens, the Gifford Pinchot National Forest, mineral springs and maybe even a peek at Bigfoot can all be found just north of Carson, Washington.
More Recreation…
#1 | Ahes Lake Ride
Trip: 6 miles // Level: Moderate // Location: Stevenson, WA
Two miles of this trail is a non-motorized path which connects you to scenic Ashes Lake Road. There are very few motorized vehicles on Ashes Lake Road and enough hills to give you a good work out.
Getting There:
In Stevenson, park at the Rock Creek Playground at the fairgrounds on Rock Creek Drive. From there, head west on the sidewalk along the pond until you reach the entrance for Skamania Lodge. Follow the path west, which will take you to Ashes Lake Rd. This is an out and back ride so turn around at the stop sign at Hwy 14.
NOTE:
No pass required.
#2 | The Heritage Trail System
Trip: 12 miles // Level: Easy // Location: North Bonneville, WA
The Heritage Trail System, in the town of North Bonneville, includes almost 12 miles of paved pathways for easy family friendly bike riding. Be sure to look for the Bigfoot statues while exploring the trails.
Getting There:
From Stevenson, travel 7 miles west to the North Bonneville town entrance. Parking is available across from the gas station.
NOTE:
No pass required.
#3 | Historic Columbia River Highway
Trip: 13 miles // Level: Moderate // Location: Cascade Locks, OR
Across the Bridge of the Gods in Cascade Locks, Oregon you will find the first highway in America to be designated as a scenic highway. The Historic Columbia River Highway offers a 13 mile car-free path that takes riders by Eagle Creek Trailhead and Bonneville Dam. Make sure to take a break at the Dam and visit Herman the Sturgeon. The car-free path ends at the Elowah Falls Trailhead where you will turn around and head back to Cascade Locks. This is a great ride for a quick workout or a leisurely day on your bike.
Getting There:
From Stevenson, cross the Bridge of the Gods to Cascade Locks, Oregon. The parking lot is to the left of the restaurant under the bridge near the mural. The upper trailhead travels along the highway to the left of the parking lot.
NOTE:
No pass required.