Sip and Savor
The first stop is a must … the Visitor Information Center at Skamania County Chamber of Commerce, 167 NW 2nd Street (Highway 14) in Stevenson to pick up the newest version of the Columbia Gorge Wine Map. Then plan your day accordingly as you travel east through the Columbia River Gorge and taste the wonderful varieties of wine offered in the region's newest appellation. With over 30 wineries and tasting rooms in 40 miles, you may not be able to experience each one but we'll touch on our favorites.
Our tasting rooms are relaxed and inviting, the traffic is low and the views in any direction are always outstanding. Find out why so many are calling the Columbia Gorge Wine Region one of the best kept secrets in the NW!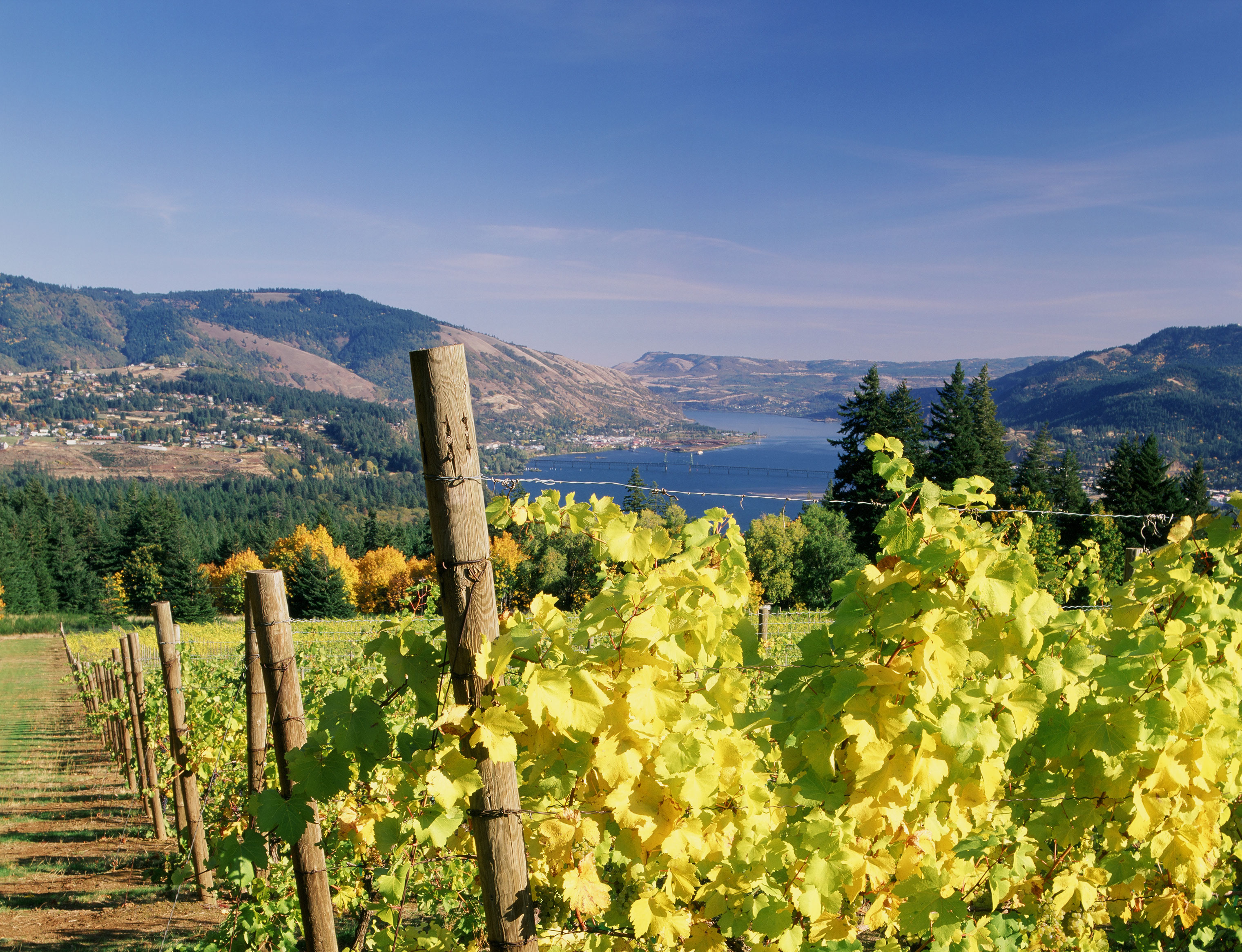 #1 | White Salmon Vineyard is located in Underwood, Washington at an elevation of 550 feet. Four distinct soils have been planted and trellised to create the best grapes for their particular wine. The vineyard was conceived and is cultivated to produce fine wine.  Their Pinot Noir is a combination of Dijon clones with 115 as the most planted. The Pinot Noir field is a light sandy loam filled with small to large volcanic rocks. Vines are planted 1.33 meters apart and 2 meters across the row. They are trained on a VSP system. Vines have been hedged and leaves pulled from the east side.  The Chardonnay is planted on Dijon clones and wood from Celilo Vineyard – a McAndrew selection that has matured early and produced ultra premium Chardonnay from Underwood Mountain. The Chardonnay field is not as light or rocky as the Pinot Noir field. While still a sandy loam, there is some clay mixed in. This clay supports a bigger vine. The vines are planted 1.5 meters apart and are 2.5 meters across the row. A trellis to support a Scott Henry system is in place. Less than half of the vines fill the trellis, while most are on a VSP with one fruiting zone.  White Salmon Vineyards' Tasting Room and Cafe' is open at 63281 State Highway 14 in Underwood, WA, April through October.
#2 | Cor Cellars: Note the change in terrain as you head east on Highway 14. From the lush and thick forested areas of the central gorge to the dry, arid rolling hills of the eastern side. Cor Cellars is the next generation of Washington wine. Their goal is to produce approachable wines of great character and distinction. Try their Alsatian-style Riesling, Gewurztraminer and Pinot Gris. Visit the Old Lyle Highway to taste where old school meets new.
#3 | Cascade Cliffs Winery: Cascade Cliffs Winery offers waterfront views, towering basalt cliffs with vistas at this casual yet sophisticated tasting room with an up close and personal feel. Since 1986, they have grown varietals such as Barbera, Nebbiolo, Petite Syrah, Syrah, Cabernet Sauvignon and Symphony.
#4 | Maryhill Winery: Next stop, one of the most scenic wineries in the U.S. Sit back on Maryhill's covered arbor and listen to music every summer weekend while picnicking and taking in the majestic views of Mt. Hood and the Columbia River Gorge.
#5 | Klickitat Canyon Winery Tasting Room:  They are a small, family run, organic winery making natural wines, unfiltered and pure in the old world traditions.  By this, they mean nothing is added to their wines and they are manually stomped, then allowed to ferment in oak barrels, all the way to dryness.  Their fermentation differs from most other wine making processes in that they do not use any sulfites, clarifying agents, filters or even added yeasts.  They have been making organic wines in the Northwest and the Columbia River Gorge since 1993.  Please come in for a flight, glass or bottle.  The tasting room is located at 6 Lyle Snowden Rd, Lyle, WA 98635   541-400-8147
Just east of Maryhill Winery is the Biggs Junction Bridge taking you into Oregon for your return trip via I-84. There is quite a choice of wineries on the south side of the Columbia River so use that Columbia Gorge Wine Map to make your selection. For more details, visit ColumbiaGorgeWine.com.