Enjoy the Ride
Do you want to see some sights but stay close to the car? By using a combination of state, county and Forest Service roads, one can enjoy the awesome and beautiful scenery found in Skamania County and the Columbia River Gorge. For a better look at the region and surrounding countryside, try one of the following driving tours.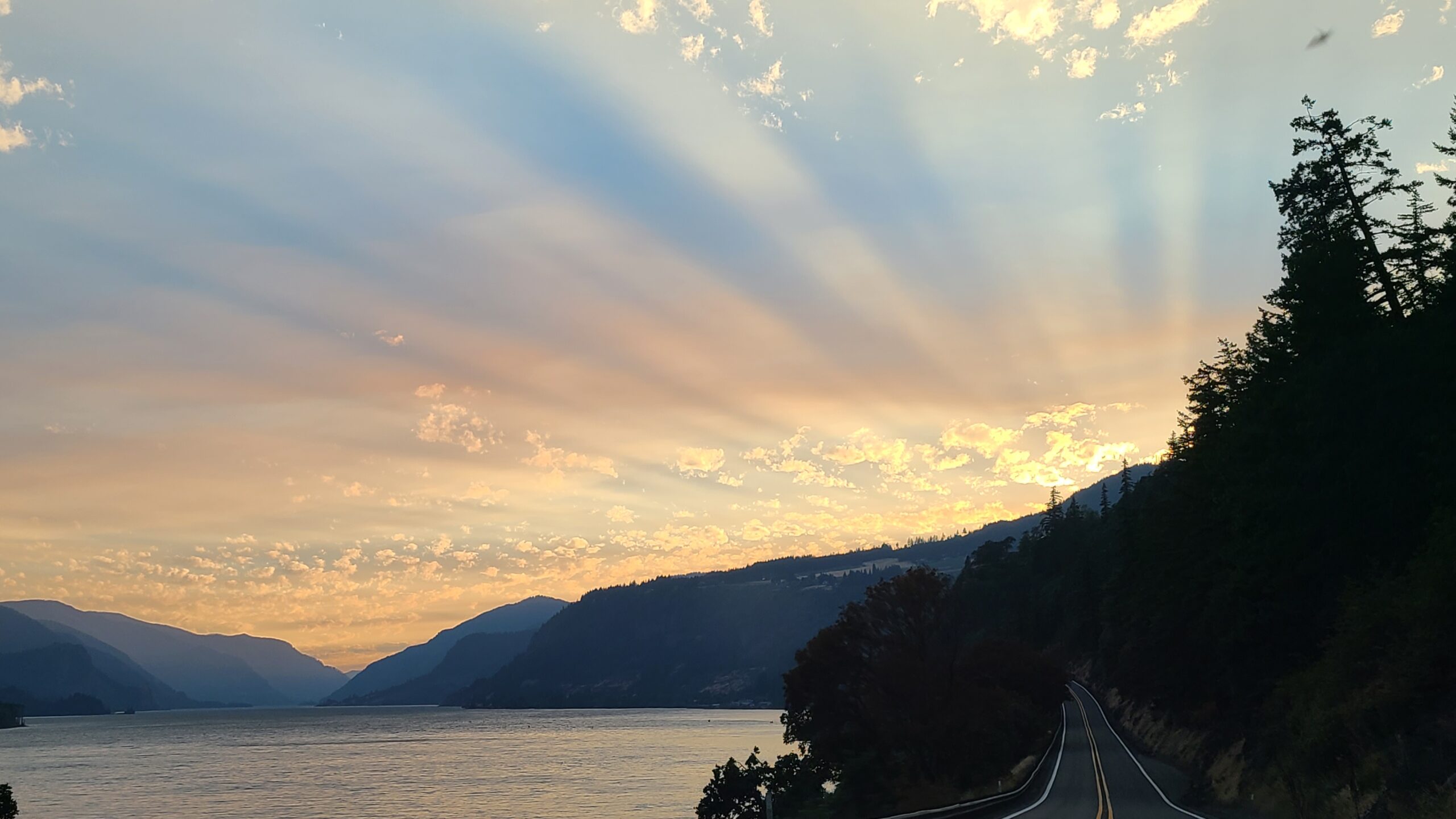 Did you know?  that Washington was one of the first states in the country to establish a system of scenic highways?  With twenty-nine officially designated National and State Scenic Byways —including a Marine Highway aboard a Washington State Ferry, you'll have countless options for sight-seeing around the state!   In Skamania County you can retrace the historic journey of Lewis and Clark as you travel along Highway 14, also known as the Lewis and Clark Scenic Byway.  For more information, visit https://www.scenicwa.com/
#1 | Big Lava Bed Drive
There are many wonderful loop drives throughout the area, but one which will give you a real feel for the back country is this trip called the Big Lava Bed Drive.
You can start at either end, but we will take you from Carson. Make sure to stock up on treats at any of the wonderful dining establishments in Carson before heading north on Wind River Highway to the junction of Hemlock Road in Stabler. Continue north on Wind River Highway and take the next road to the right, Warren Gap. This is a gravel road, and it connects with the paved, but single lane Panther Creek Road (also know as the 65 Road on some maps). Make a left on Panther Creek Road and stay on the main track until you reach what is unofficially known as "Four Corners." This is a symmetrical crossroads of four gravel roads. Take the road to the right, marked on the map as the 60 Road. This route will take you to Goose Lake over the Pacific Crest Trail and along the top of the Big Lava Bed. If you should find an irresistible desire to go exploring in the Big Lava Bed, we recommend that you use the Pacific Crest Trail to do so, staying on the trail. The Big Lava Bed has proven, over the years, to be a navigation hazard for most folks. Some say it's haunted and others maintain that there is a magnetic disturbance, which whacks out GPS units and compasses. For sure, there is no cell service and some of the terrain is like a leg breaking moonscape. It is very interesting and safely seen from the trail.
Back to your car, after you stop for a spell at Goose Lake, take the next main track to the south, or the 66 Road, sometimes also known as the South Prairie Road. This road follows the eastern edge of the Big Lava Bed, and in autumn, is one of the most brilliant fall color drives. When you come to an intersection with Oklahoma Road, make a right turn and head into Willard. From Willard, you can return to the Columbia River by going through Mill A (a right turn), or by turning left on Underwood Road and going along the high ridge above the Columbia River and dropping down to the mouth of the White Salmon River. Either way is scenic.
#2 | Highway 14 West Loop
Running beside the Columbia River through the entire county, State Route 14 is a Scenic Byway known as the Lewis and Clark Trail. Although it stretches from the Idaho border to the Pacific Ocean, the route's 47-mile traverse through Skamania County is often called its most scenic section. The highway crosses the Cascade Mountains near sea level, allowing year-round transit and easy access to four seasons of outdoor beauty and activity.
Starting your trip from Stevenson, Washington, you will head west passing the historical marker Ashes Lake on your right. On your left you will see the Bridge of the Gods. The bridge plays a major role in the Pacific Crest Trail by linking Oregon and Washington states. Continue west on Highway 14 and visit the National Historic Landmark, Bonneville Lock and Dam (MP 40). Hamilton Island and Fort Cascades Historic Site are both located on the south side on the Columbia River with Bonneville Hot Springs Resort and Spa to the north. The City of North Bonneville is a good rest stop offering gas and a convenience store. The town has a park-like setting with 10 miles of walking/ biking trails. Located three miles west of Bonneville Lock and Dam, make sure to stop at Beacon Rock (MP 35) which is the exposed core of an ancient volcano standing more than 800 feet above the mighty Columbia River. The rock is the largest geologic formation of its kind in the nation. Hike to the top for an impressive view where you can see for hundreds of miles in all directions. Beacon Rock State Park offers camping, picnicking and hiking.
Continue on Highway 14 and you will find the small community of Skamania, which is home to the historic Skamania General Store offering gas, food, snacks, maps and friendly locals. Located west of Skamania, Franz Lake National Wildlife Refuge is a true wildlife sanctuary where wildlife and plants remain undisturbed by human activity. St Cloud Day Use Area is located at MP 30 for a rest stop and picnic. Continue and turn right on State Road 140 near Prindle. 140 will turn into Washougal River Road where you will approach the Skamania Steelhead Fish Hatchery. Farther up the road, you can visit the Washougal Salmon Hatchery. Dougan Creek Campground is a good stop for a rest, maybe a picnic and a view of Dougan Falls. You will have to back track towards the Skamania Steelhead Fish Hatchery to turn onto Salmon Falls Road, which will lead you back to Highway 14. Once you hit Highway 14 you will head east back to Stevenson or west to Washougal or Vancouver.
#3 | Columbia Gorge & Wineries
With 29 tasting rooms and wineries and more in the works, the Columbia River Gorge is a great place to spend a day to visit the many wineries, offering a scenic drive tour in itself. For more details about the many wineries go to www.columbiagorgewine.com
A great way to see the central and eastern Columbia Gorge is to travel east from Stevenson on Highway 14. You will pass Wind Mountain and Dog Mountain before approaching Drano Lake, a popular fishing spot for salmon and steelhead. The Spring Creek National Fish Hatchery is located on Highway 14, just after completing your drive through the many tunnels. Not only can you learn about local salmon, the entrance to the hatchery also offers great close up views of wind surfers. Bingen, Washington is your first town with full services boasting a first class pizzeria, two wineries and a cider house. You can take a side trip and venture up the hill to White Salmon, home to three more wineries. Back on Highway 14, you will pass the small town of Wishram, which boasts a riverfront winery with spectacular scenery. Continue on Highway 14, passing through the small town of Lyle, which is home to two wineries. To reach Maryhill Winery, follow Highway 14 five miles past the bridge connecting Oregon and Washington. Open since 2003, Maryhill Winery has a 4,000-seat amphitheater, picnicking on the spacious and scenic covered arbor, a self-service deli and award-winning wines. Check out their website at www.maryhillwinery.com. You can also visit Maryhill Museum and Maryhill State Park. The full-scale replica of England's famous Stonehenge is one mile from the state park. Cross the bridge to Oregon and head west on I-84 where you can stop in The Dalles with three wineries. The small town of Mosier has two wineries and don't forget to look for Mt. Hood as you stop by Hood River, Oregon which offers six wineries. You finish the loop by traveling on I-84 west and taking the Cascade Locks exit and then crossing the Bridge of the Gods returning you to Stevenson, Washington.