Do you love the game of golf?
Then Skamania County is the perfect place for a weekend golf get-a-way! Home to three golf courses with challenges for every level, from beginner to expert amongst the most beautiful scenery in the Pacific Northwest. Golfers shouldn't be surprised if they are joined by some of the abundant local wildlife including deer, turtles, geese, osprey and more.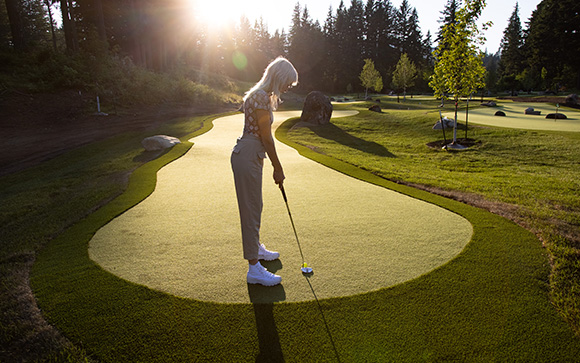 Did you know?  The Broughton Log Flume was the last operating log flume in the country? Portions of the original nine-mile flume can be viewed from Highway 14 in east Skamania County in the heart of the Columbia River Gorge.
#1, #2, #3 | You may have heard of the historic Carson Hot Springs Resort. Built in the early 1900's the resort features an authentic bathhouse and cozy accommodations, but in recent years they added a golf course and restaurant! Enjoy a hearty lunch at their Elk Ridge Clubhouse before you hit the 18-hole Elk Ridge Golf Course, your first stop on this golf get-a-way. This par 71 course offers a challenge for every kind of golfer, from beginner to expert. After your game, you may want to treat yourself to a flight of award winning craft beers at Backwoods Brewing, or a delicious pizza, or both! Get a good night's rest at The Cabins at Wind Mountain Ranch, located only a few short miles from Carson in the community of Home Valley. With a kitchenette, fireplace, amazing views and so much more, the cabins are the perfect place to relax and unwind.
#4, #5 | Skamania Lodge will be your destination for day two. Fuel up before your game with a delicious lunch and a view of the Columbia River Gorge in their River Rock Lounge, then head out to the newly renovated, scenic, 9-hole walking course. If you feel the need to get re-energized after an afternoon of golf, stop by Skamania Lodge's Waterleaf Spa to relax in the hot tub and work on those sore muscles with a massage. Cap the evening off with a tasty Tex-Mex dinner and a fresh fruit margarita at El Rio in Stevenson.
#6 | You should feel refreshed and ready for your final day of golf before you head back home. Beacon Rock Golf Course is located in the town of North Bonneville. This 9-hole course provides golfers with everything they expect; a beautiful setting, excellent playing conditions, and a Clubhouse to enjoy good food and drink after your game.