Welcome Skamania County
Every year visitors arrive in Skamania County asking, "Where is the Gorge?" Some people think there is a "gorge" which they can hike through or drive to, not realizing they are in the Gorge. Up to 4,000 feet deep, the Columbia River Gorge stretches for more than 80 miles as the Columbia River winds westward through the Cascade Range, forming the boundary between Washington to the north and Oregon to the south. The Columbia River Basin is North America's fourth largest, draining about 250,000 square miles and extending throughout the Pacific Northwest and into Canada.
View where Skamania County is in relation to Oregon and Washington >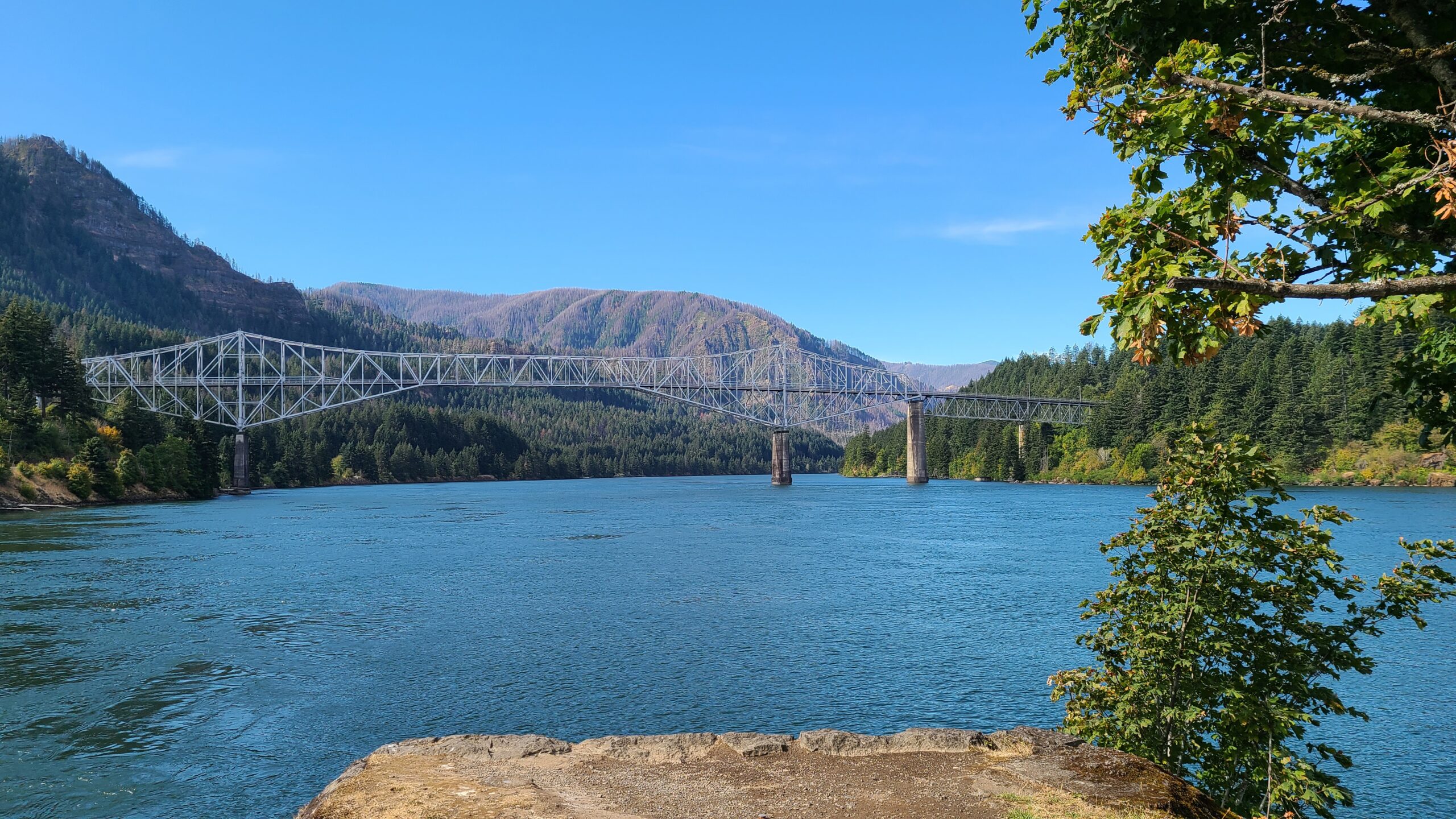 Did you know?  The Broughton Log Flume was the last operating log flume in the country? Portions of the original nine-mile flume can be viewed from Highway 14 in east Skamania County in the heart of the Columbia River Gorge.
Carson
Carson, Washington is the gateway to the Gifford Pinchot National Forest, Old Man's Pass and Mt. St. Helens. Wind River Highway runs directly through Carson leading to world class fishing, hunting, hiking, mountain biking, berry and mushroom picking, sledding, cross-country skiing, snowmobiling and beautiful scenery. This small, unincorporated town is also known for the Carson Mineral Hot Springs Resort, an historical landmark since 1897, which includes 28 rooms and mineral spring baths. Currently scheduled to open in 2007, the resort will feature a new 18-hole golf course and an additional 39-room hotel. Carson retains much of its history via architecture as many of the original buildings are still standing. Coffee shops, cafés and unique lodging facilities are found in this sleepy little town, which is the perfect base from which to experience the many recreational opportunities found in the region. For more information about businesses in the Carson, Home Valley and Stabler areas, visit http://www.chvs.org/.
Home Valley
Home Valley, Washington is at the confluence of the Columbia and Wind Rivers. Popular ball fields, picnic area, sandy swimming beach and playground are all found at the county park on the riverfront. Two RV parks, a motel, café and store are conveniently located next to some of the best fishing in the world. The boat launch in Home Valley is located at the mouth of the Wind River, which leads boaters to the Columbia River, famous for its spring Chinook and fall steelhead. http://www.chvs.org/
Mill A, Willard and Cook
Mill A and the neighboring communities of Willard and Cook, Washington are located on the eastern side of Skamania County. Quite rural and remote, these are small, unincorporated communities so business and housing growth is limited. Willard was home to Broughton Lumber Flume, a nine-mile long, 1000-foot drop, wooden lumber slide. For decades, the Broughton Lumber Company timbered in the mountains, sending their logs to the riverside mill. The mill has been closed for several years and the old flume is slowly rotting away but can still be seen from Highway 14. The 1967 TV episode of Lassie made the flume famous as the popular collie floated down the chute to the Broughton Lumber Mill. The small community of Cook, Washington, is located just west (downstream) of the mouth of the Little White Salmon River and is home to the Little White Salmon National Fish Hatchery. Mill A boasts a public school that houses 77 students, grades K-8.
North Bonneville
One of Washington's best kept secrets, North Bonneville is ideally located between the recreational attractions of the Columbia River Gorge and the metropolitan Portland/ Vancouver area, just 45 miles away.
Recreation runs year round at North Bonneville. Hunting, fishing and hiking are literally at your doorstep. There are 10 lakes within three miles and five streams within five miles of town, seasonally teeming with salmon and steelhead. A unique layout of 12 miles of walking paths meanders through the community providing rare level walking/bike path routes in the Gorge. The Heritage Trails system will eventually consist of four color coded interpretive routes all originating at a common trailhead… the Downtown Trail Station. Each route will travel through a different part of the city and/or its immediate surroundings all while highlighting the sights, sounds and history that make this area so unique. North Bonneville has its own nine-hole golf course along with a brand new disc golf course.  Find first class lodging and relaxation in the luxury of the Bonneville Hot Springs Spa and Resort. On the east side of town, the mighty Bonneville Dam is a must-see attraction. The North Shore Visitors Center is a three-level facility offering amazing underwater views of migrating fish, a large theater and displays that explain the history and workings of a hydropower plant. You can also watch fish swim upstream from the fish ladder. http://www.northbonneville.net/
Northwoods
Heading west along the Swift Reservoir on Forest Road 90 in Skamania County, travelers will find the tiny community of Northwoods, Washington. Located on the southeast side of Mt. St. Helens National Volcanic Monument, this mountain community is considered the "last outpost" on your way to Mt. St. Helens. The Eagle Cliff General Store is your stop for gas, a broad range of goods including beer and wine, food and supplies, lodging, cross-country ski rentals and even a laundromat. Summer time in Northwoods along Swift Reservoir offers many possibilities. This 13-mile long reservoir has wonderful waterskiing coves, great fishing and lots of room for fun and exploration. Surrounded by the beauty of Mt. St. Helens and Gifford Pinchot National Forest land, the area attracts hikers, bikers, boaters, fishermen and women, and sun seekers of all ages. A public boat launch and campground are located at the reservoir. Wintertime as well offers many possibilities, from snowmobiling to cross-country skiing and snowshoeing.
Skamania
The community of Skamania and Skamania Landing are located on the Washington side of the Columbia River, 15 miles west of Stevenson. Residential homes, a public school and general store are the makings of this small village, with hiking and picnicking opportunities at nearby Sam's Walker and St. Cloud Day Use Sites. Franz Lake Refuge is a popular place for wintering tundra swans. Its system of streams and wetlands provide habitat for breeding, migrating and wintering waterfowl and other aquatic migratory birds and raptors such as osprey. Visitors may even get lucky and spot a bald eagle hanging out at the wetlands.
Stabler
Stabler, Washington is an unincorporated community in Skamania County, also known as Hemlock. It is located in the southernmost region of the Gifford Pinchot National Forest. Stabler is primarily a bedroom community for commuters working in nearby Carson, Stevenson and other towns in the Columbia River Gorge. Stabler is also home to the Wind River Canopy Crane, a research facility that studies the old growth forest ecosystem with an emphasis on the forest canopy. http://www.chvs.org/
Stevenson
On the north bank of the Columbia River lies the historic community of Stevenson, Washington. A scenic walk along the waterfront allows visitors to enjoy a view of the Cascade Mountains and take in the action on the river. East Point is a great spot to view kiteboarders and there is a boat dock along with a picnic and day-use area. Downriver, next to the Columbia Riverside Lodge, is Bob's Beach, a popular spot for windsurfers with a grassy area for a picnic on a warm, summer day.
As Skamania County's seat of government and home to Skamania Lodge and the Columbia Gorge Interpretive Center Museum, Stevenson strives to keep visitors busy with activities and events throughout the year.
With an award-winning brewpub, art galleries, antique shops, fine restaurants, distinctive clothing and jewelry stores, along with a stylish coffee bar, one can only delight in discovering this welcome respite from the big city. Free public Wi-Fi can be found in the many locations between the Columbia River beaches and the Skamania County courthouse. Popular events such as the Slingshot Kiteboarding Festival, Brews Blues and BBQs, Adventure Bluegrass Festival and the Outrigger Canoe Races bring crowds to Stevenson every year, providing fun for the whole family. http://www.cityofstevenson.com/
Underwood
Underwood, Washington is home to the Spring Creek National Fish Hatchery, located four miles west of the Hood River/White Salmon toll bridge on State Route 14. Underwood is downstream of the White Salmon River, looking toward Mt. Hood in Oregon, just across the Columbia River. World famous windsurfing takes place on the banks of the Columbia River down wind of this thriving community.
West End
West Skamania County consists of Upper Washougal, Cape Horn, Skye, Prindle and Mt. Pleasant. These communities border Clark County with proximity to the greater Vancouver area. This rural area has their own public schools, Cape Horn/Skye, K-7 and Mt. Pleasant, K-7. Great views of the Columbia River can be seen from the Cape Horn Viewpoint, a pullout along Washington State Highway 14.
Cascade Locks, Oregon
Neighboring Cascade Locks, Oregon, is located directly across the Columbia River from Stevenson, Washington. A short trip across the Bridge of the Gods takes you to this small community, which is the summer home of the Columbia Gorge Sternwheeler, the legendary riverboat that offers a variety of cruises on the Columbia River. This historic community has become a premier sailing site and training ground for Olympic sailboat racers due to the convenient launch site that boasts excellent spectator viewing. http://www.cascadelocks.net/